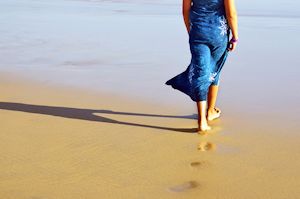 Individual therapy offers you the opportunity to break through old, self-destructive patterns such as depression, anxiety, low self-esteem and self-doubt and to embrace new, more joyful ways of being in the world.
It's not unusual for people new to counseling to feel stuck and entrenched in frustrating, repetitive cycles of behavior and emotions. It may even be difficult to imagine living without those feelings of burden and limitation. That's where I, as your therapist, come in. With my training, skills, expertise — and most of all, caring — I will hold the hope for you until you are able to feel it and believe it for yourself. My therapeutic technique emphasizes insight, self-awareness and empowerment.
We all face a myriad of stresses and problems in this world. Most of the time we handle those on our own, or with the advice and counsel of friends and family. But at times our usual support systems may not be adequate to deal with some of life's bigger challenges. At those times it's wise to reach out for professional help. In fact, it's a sign of strength — not weakness — to choose to invest time, energy and resources in individual therapy.
People come to see me to deal with a wide variety of issues. They may be dealing with trauma, depression, panic and anxiety, relationship issues, loss, grief, or family of origin problems. Whatever you are experiencing, there is no shame in getting help. I will be sensitive and respectful to your needs. I will help create a safe place to explore your very personal concerns to develop healthier relationships and to cope with painful life events. I will meet you where you are and together we will create a way forward. You deserve to take good care of yourself. Getting help when a problem is not at a crisis level can help prevent it from escalating.
Are you seeking individual therapy or counseling in West Palm Beach? I am here to help. I serve people of all orientations, races, ethnicities and religions and welcome you to contact me through the website or to give me a call at (561) 968-1505. You don't have to go through tough times alone.